Bug Police - Queen Creek Pest Control Service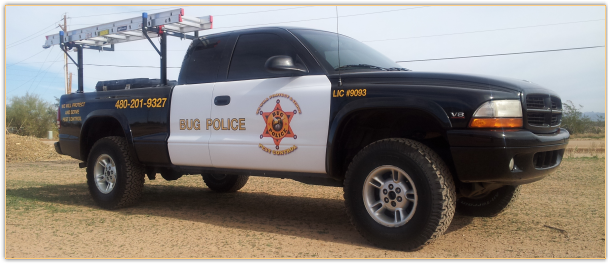 Scorpion Control - Bee Removal - Pigeon Control - Termite Exterminations - Bed Bug Extermination
Look no further than the one and only Bug Police, family owned and operated right here in your hometown. Also offering pest control in many more of our surrounding communities. Bug Police are one of the best exterminators Queen Creek AZ can offer their residents. Our technicians in Queen Creek are known for their expertise in many areas to prevent pests. Your home will always be treated with the utmost respect by one of our friendly, qualified service technicians who specialize in your specific Queen Creek pest control needs and can tailor a plan suitable for your home or business!
Every treatment your technician will treat the exterior of your home by de-webbing the eaves, removing mud dauber or wasp nests, treat yard with encapsulated granules, power spray yard targeting ants, spiders, roaches and beetles, complete a wall flush dust treatment and spray around the entire foundation of your home creating a solid defense perimeter. Inside, your expert will treat the garage and attic area as needed, treat under sinks and behind toilets, treat underneath appliances and lastly will treat entry points and all baseboards. We guarantee family and pet friendly products are used in every general pest treatment!
Did you know Queen Creek is one of the most sought after places to live in Arizona? Even the scorpions love living here! If you suspect you may have a scorpion problem, call the expert exterminator Queen Creek AZ property owners recommend right away. We'd be happy to give you an inspection! Our experienced technicians are the best at targeting scorpions, which are commonly found here in Queen Creek. Bark Scorpions seek shelter in dark, cool and damp places, and standing water or a leaking hose around your home can be an open invitation to these painful arachnids.
The Bug Police can inspect, and control pests in your home or office, giving you peace of mind with one of our many to choose from service plans! Most customers sign up on our bi-monthly service plan to ensure complete control over their home or office space. We also offer monthly and quarterly service plans to meet your pest control needs.


FREE Pest/Termite Inspection Call Now Use Promo Code "QCDirectory"